Please call Tim A. Daigle at (617) 650-6161 to schedule an appointment or to answer any questions you may have.
In the Greater Boston area, there are typically 2 sizes. We are familiar with most cemeteries, so please give us a call with any questions or concerns.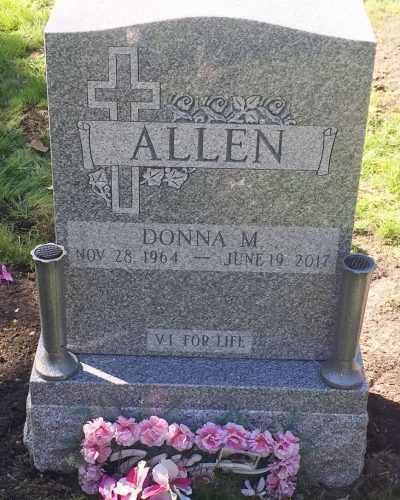 2′ wide x 3′ high

base

: 2′ x 1′ x 08″ or 10″

top

: 20"w x 28"h x 8"d

3′ wide x 3′ high

base

: 3′ x 1′ x 08″ or 10″

top

: 30"w x 28"h x 8"d
Polishing & Additional Options

The top piece of the monument has 5 visible sides (front, back, left, right & top). Standard pricing includes polish front and back only. Additional charges apply for polishing the other three sides.
Small matching vases available for $200.00 each plus tax. Vases are installed at the same time as the monument and come in the same color as the granite.
A Cameo photo of your loved one can be made and attached to your new monument. We can adhere it to the stone for $400 or recess it into the stone for $600 plus tax.
A Laser Etching of a photo can be etched permanently into the stone starting at $750 and up, plus tax. Etching is best done on dark-colored granite.

A drawing to scale will be emailed or mailed to you with your contract. Once deposit is made and paperwork approved we will begin the process of the monument.
Deposits are 66% of the total monument cost plus cemetery fees. Balance will be due after the monument is set. We will email or mail you a photo of the monument once it is in place.
Note:  The cemetery foundation needs to be completed before we can set the stone.  The fees and time frames vary by cemetery – give us a call 617-650-6161 – we are familiar with most of the Greater Boston Area cemeteries.

Below are the most common pricing scenarios; please give contact us to discuss your specific needs.
*Pricing does NOT include 6.25% state tax or cemetery foundation fees. Prices are subject to change without notice.
| GRANITE COLOR | SIZE | POLISH | DECORATION | PRICE* |
| --- | --- | --- | --- | --- |
| Gray | Single 2×3 | Front/Back | None | $3350.00++ |
| Gray | Single 2×3 | Front/Back | Shape Carved Flowers | $4100.00++ |
| Mahogany | Single 2×3 | Front/Back | None | $3450.00++ |
| Mahogany | Single 2×3 | Front/Back | Shape Carved Flowers | $4200.00++ |
| Mountain Rose | Single 2×3 | Front/Back | None | $3450.00++ |
| Mountain Rose | Single 2×3 | Front/Back | Shape Carved Flowers | $4200.00++ |
| Black | Single 2×3 | Front/Back | None | $3450.00++ |
| Black | Single 2×3 | Front/Back | Shape Carved Flowers | $4200.00++ |
| India Red | Single 2×3 | Front/Back | None | $3700.00++ |
| India Red | Single 2×3 | Front/Back | Shape Carved Flowers | $4500.00++ |
7
SCROLL DOWN FOR SAMPLE IMAGES/COLORS
| GRANITE COLOR | SIZE | POLISH | DECORATION | PRICE* |
| --- | --- | --- | --- | --- |
| Gray | Double 3×3 | Front/Back | None | $4400.00++ |
| Gray | Double 3×3 | Front/Back | Shape Carved Flowers | $5200.00++ |
| Mahogany | Double 3×3 | Front/Back | None | $4500.00++ |
| Mahogany | Double 3×3 | Front/Back | Shape Carved Flowers | $5300.00++ |
| Mountain Rose | Double 3×3 | Front/Back | None | $4500.00++ |
| Mountain Rose | Double 3×3 | Front/Back | Shape Carved Flowers | $5300.00++ |
| Black | Double 3×3 | Front/Back | None | $4500.00++ |
| Black | Double 3×3 | Front/Back | Shape Carved Flowers | $5300.00++ |
| India Red | Double 3×3 | Front/Back | None | $4700.00++ |
| India Red | Double 3×3 | Front/Back | Shape Carved Flowers | $5500.00++ |
For more images, please click here to visit our PHOTO GALLERY